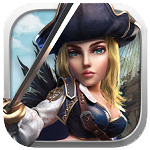 Our list of games like Heroes Charge offers more mobile RPGs centred around automatic gameplay, hero collection and large communities.
Heroes Charge has grown into is one the largest mobile RPG titles after its 2014 release. Available for iOS and Android mobile devices Heroes Charge centres around the players journey to create the ultimate team of heroes to conquer the campaign, PvP and other game modes. Opting for an automated approach to gameplay Heroes Charge automatically sends your fighters from one side of the screen to the other, shifting the players focus to the well timed use of skills and making a balanced but powerful team.
In order to achieve this players will recruit heroes to their team and level them up by grinding experience and hunting for loot rewards. For the dedicated player they'll be able to take this team into the likes of PvP, events and boss dungeons to compound their strength even further.
The games like Heroes Charge collected below offer a mixture of iOS and Android games with similar mechanics. In these options you'll experience automatic combat, hero collecting, large communities, PvP, guilds and predominately side scrolling game designs.