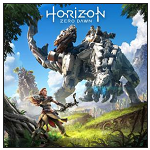 Games Finder's array of games like Horizon Zero Dawn features additional impressive open world adventures where you'll use your cunning instincts and skills to overcome powerful monsters.
Released in 2017 for PlayStation 4 with a Windows release in 2020 Horizon Zero Dawn features familiar action role playing mechanics in a unique open world environment. This unique setting takes players to a futuristic 31st century Earth that has suffered from an apocalyptic event leaving a diminished human population that now lives in small tribes for survival. Playing as the human outcast known as Aloy players combat the environment, other humans and the mechanised creatures that roam the land and have recently become increasingly violent against humans.
Horizon Zero Dawn encourages players to select their own tactics for these encounters with players having skills across stealth, explosives, traps, spear and ranged weapons. With these skills Aloy can trap and hunt the Machines to gather resources for survival and to advance her available arsenal of combat options. With dozens of diverse machine designs and biomes each offers it's own challenge to player survival and storyline quests to discover.
Our list of games like Horizon Zero Dawn features other open world adventures that blend exploration, loot, stealth and role playing progression across dozens of gameplay hours. The games selected here focus on other titles where players are fighting unique enemies be it monsters, machines or other large scale out of this world foes.