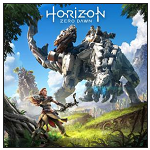 Games Finder's array of games like Horizon Zero Dawn features more impressive open worlds where you'll use your cunning instincts to overcome powerful monsters and opponents.
Playing as an action role playing title at its core Horizon Zero Dawn puts players in the head of Aloy, a human outcast who roams the post-apocalyptic Earth in the 31st century which is now overrun by hostile machines. The result is a severely diminished human population who now is forced to live in small tribes focused solely on survival.
Focusing on the story of Aloy as she attempts to understand the reasons for her outcast status from the rest of her tribe players roam the open world while also engaging in a variety of side quests. While players will encounter less than friendly human enemies much of your combat revolves around mechanised creatures known to the game world as Machines who have recently become more violent to humans.
Relying heavily on stealth, spear and ranged weapons Aloy will trap and hunt the Machines to gather resources and further the available arsenal of options. Combined with this a deep skill tree of passive and active abilities lets players push their gameplay in their preferred direction.
Our games like Horizon Zero Dawn features more open world and stealth orientated games where players will explore, loot and grow across dozens of gameplay hours. Selection focus has been placed on games where players are fighting unique enemies be it monsters, machines or other out of this world foes.