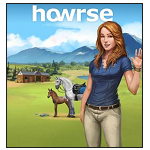 Our collection of free online horse games like Howrse features fun, free and realistic horse breeding games that the perfect games for girls of all ages.
Howrse is one of the longest running and most popular virtual animal games around and has been translated into a number of languages ensuring animal fans across the globe can enjoy this fun, free and online horse game. Centred around breeding simulation with horses the game is all about managing your own stables players must adopt, breed, train and care for their virtual horses while managing their stable budget and entering into events.
The sheer depth of opportunity and variety has allowed Howrse to stay at the top of the genre with day/night cycles, seasons, rankings, horse skills, competitions. With a continually evolving list of features Howrse is one of the leaders in the virtual animal games for genre.
The games like Howrse collected below feature other great horse games that are available for free and online. In these experiences you'll manage the breeding of horses and other animals, enter them into competitions, earn in game currency and much more.