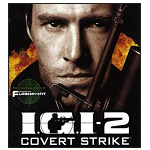 Our collection of games like IGI features tactical first person shooters where you can use multiple paths and strategies to achieve your mission objective.
Project I.G.I.: I'm Going In launched in 2000 with a sequel in 2003 titled I.G.I-2: Covert Strike with both of these games placing emphasis on a tactical and thoughtful approach to military missions. While both games had their issues with bugs and received mediocre success on initial release the series developed a large community following due to the unique gameplay experience. This gameplay involved players tackling missions one by one with their own mission objective that could be achieved through several different approaches.
With each mission featuring different routes players are encouraged to utilise the less violent routes that often involve stealthy and covert movements that lead to better chances of survival and mission ratings. The main character known as David Jones is also often outnumbered which forces players to think strategically and use every advantage available to him from the different weapons, gadgets and support items.
The games like Project IGI found below offer a similar experience that revolves around stealth and tactical planning to achieve your objective. While these games offer plenty of firefights and weapon options it's the less obvious stealth route that will improve your chance of success.