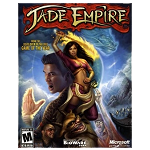 Our assortment of action role playing games like Jade Empire features a host of adventures full of story and depth across a range of fantasy environments.
Drawing on Imperial China to create a setting focused around martial arts Jade Empire creates a realistic setting that feels right out of ancient China, even featuring its own structured language to get you further engaged in the entire experience. As a BioWare RPG this attention to detail extends beyond the setting into character customisation ensuring you have great control of your characters growth and development.
This character customisation includes gender options, a three primary statistic system (body, mind and spirit) and a host of fighting styles that slowly develop throughout the game from martial arts to weapons, magic and even magical styles.
Exploration and the game environments are equally fleshed out with a countless number of towns and NPCs which will offer a wide range of quests for the player to complete while also enhancing their understanding of the lore behind this ancient world.
The games like Jade Empire on this page offer a similar level of RPG quality, you'll have plenty of room to develop a unique character, engage in exciting but strategic combat and explore a world as convincing as our own.
/div>