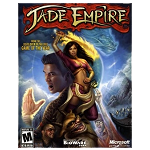 Our assortment of action role playing games like Jade Empire features a host of adventures full of story and depth across a range of fantasy environments.
Released in 2015 Jade Empire draws inspiration from Chinese mythology to create a fictional but realistic game world. Exploring this vast and unique setting players are the last Spirit Monk on an important quest to save Master Li from the evil emperor. While humans are at the heart of your mostly linear adventure the world is also shared with a number of mythical spirits that expand on the lore of the world and underlying mystery.
Customising your personal Spirit Monk before stepping into this world players can select gender, primary statistic (body, mind or spirit) and a range of underlying fighting styles that slowly develop throughout the game from martial arts to melee weapons and magic. With your intended character build players will adventure through numerous towns, interact with NPCs and embark on quests while also enhancing their understanding of the lore behind this ancient world. Throughout the Jade Empire story you'll also be required to make a number of key dialogue decisions that have different moral alignments.
The games like Jade Empire on this page offer a similar level of RPG quality where you'll have plenty of room to develop a unique character, engage in action combat and explore a world as convincing as our own while making moral choices.