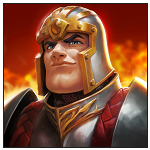 This assortment of role playing games like Kings Road features other browser, mobile, PC and console based loot adventures where you'll fight enemies alone and with friends.
Kings Road (or KingsRoad) was originally a browser based action RPG that takes players to a fantasy world that is without a king and has seen evil take root across the lands. After a 2013 launch the game ended support in 2020 for the browser game version with only the iOS and Android version remaining operational. With a simple storyline line reminiscent of a dark fairy tale, crisp 3D graphics and 3 basic classes Kings Road was a successful game across both browser and mobile versions.
Taking your knight, archer or wizard players will fight across a number of environments from wide open landscapes to dark dungeons. With familiar skillsets and designs you'll find a knight that wields a sword and can absorb damage, an archer that is an expert with the bow and the wizard that can control powers of fire and the arcane. Along the way players gain experience, find new unique items and team up with other players in co-operative modes just like a traditional action role playing adventure.
The alternatives to Kings Road found below offer a range of similar action RPG experiences for browser, mobile and other platforms. Focusing on free to play or low cost options these adventures offer a range of solo and group challenges to progress through as you acquire loot and experience.