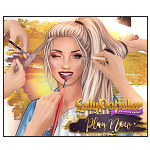 Our collection of games like Lady Popular features other virtual worlds for tweens with fashion focused gameplay and large communities.
Lady Popular is one of the hottest browser based games in the online fashion genre and has been online since 2009. With the game being localised into nearly two dozen languages the community for the game is one of the largest, reaching double digit millions in terms of registrations.
In regards to actual gameplay Lady Popular focuses on dress-up and fashion through a range of customisation. In the game players can create their own female character and change their hairstyle, make-up and outfits. This is just the foundation of options though with customisable apartments, missions and a range of community activities to befriend other players.
With a Fashion Arena to compete against other players for in-game currency, a huge range of contests, Lady clubs to visit, parties and a large range of city locations the depth of opportunities in Lady Popular has been the biggest driver behind its growing audience.
The games like Lady Popular on this page offer similar gameplay, these options below focus on fashion orientated games with large amounts of customisation that can also be played in your browser.