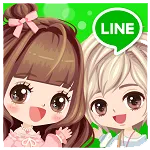 Our list of games like Line Play features other social orientated avatar apps that let you hang out with friends, meet people and adopt pets on mobile.
Line Play is a popular mobile hangout for Android and iOS devices that has been downloaded tens of millions of times across the globe. Designed as a global meeting place for people with all sorts of different interests you'll also encounter regular celebrity and occasion themed characters.
Heavily based around making the picture perfect avatar Line Play lets you heavily customise your own look with a range of mouths, noses, ears and eyes. For those that want a completely different alter ego that option is also available and even supported with a range of animal avatars. If you don't want to play as animal though you'll still have the opportunity to adopt and care for one.
A social orientated avatar game is never complete without a massive array of items and Line Play doesn't fall short in that department either with hundreds of possible items for your avatar or your customisable rooms.
The games like Line Play here all have a heavy social focus with the likes of social gaming, avatar customisation, pets and chats. With a focus on social mobile titles this list is ideal for those looking to chat with others on their mobile device or through their browser without large downloads required.