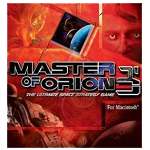 Our collection of games like Master of Orion (MoO) offers other space based games that use turn based mechanics.
Master of Orion was one of the original turn based strategy games and was a game of galactic proportions, choosing to use a space setting for its 4X style of gameplay. The Master of Orion franchise spawned a total of three games over a decade between the period of 1993 and 2003. The gameplay stayed fairly similar in the first two games with the third game changing up a lot of the core experience (with both good and bad results).
The level of depth in Master of Orion is out of this world with players having control over all aspects of their space faring race. This includes economic and military decisions which alter the players production towards improving their economy or developing war ships for battle.
Additionally players must consider their relationships with other races, their fleets position and any available technology improvements that might ultimately be the difference between victory and defeat.
The games like Master of Orion here offer more turn based strategy games with a focus on games set in space or with a huge amount of depth. Games of the 4X variety are also featured prominently.