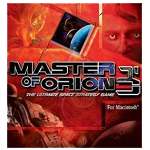 Our collection of games like Master of Orion (MoO) offers other space based games that use turn based mechanics and offer vast galaxies of 4X gameplay.
Master of Orion was one of the original turn based strategy games and was a game of galactic proportions choosing to use a space setting for its 4X style of gameplay. The Master of Orion franchise has spawned a number of games since its initial 1993 release with primarily the same mechanics between games that has players focusing on the management of their space empire. This sees players managing the individual colonies, selecting research advancements, constructing ships, creating alliances with alien races and if required making tactical combat decisions.
All of these mechanics offer a wealth of depth and strategic opportunity with the galactic backdrop that gives you large control over your spacefaring race. From the deep economic control over your colonies to maximise production of resources that you'll use to trade, construct and fight to the galaxy structure itself that has hundreds of planets to claim. Ultimately it is your victory condition you'll be striving for which allows players to chase an aggressive, research or diplomatic end.
The games like Master of Orion below offer more turn based strategy games with a focus on games set in space that offer a huge amount of depth for players to conquer with 4X mechanics.