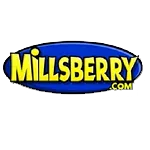 This assembled list of games like Millsberry has other places for kids to explore, adventure, connect with others, play games and much more.
Millsberry was a hit online virtual world created by General Mills originally in 2004. As one of the early virtual games Millsberry quickly attracted millions of children, tweens and even teenagers. Complete with shops, special events, arcades and homes the world of Millsberry offered everything. Despite the success of Millsberry the website was shutdown in late 2010 much to the shock and sadness of countless members.
Millsberry offered a town full of kids where players could make buddies, design their home, play games, collect items and learn about all sorts of things. This combination of fun, friendship and learning has since appeared in countless other virtual worlds that ensure there is a wealth of websites like Millsberry now available.
The list of virtual worlds similar to Millsberry below will let you join for free, create your own unique avatar, make friends with other players, play games, participate in contests, learn and much more.