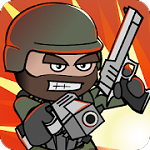 Find more games like Mini Militia (Doodle Army 2) with this list of fast paced and addicting multiplayer games that can be played online or through LAN in your browser or mobile device.
Doodle Army 2 Mini Militia (DA2 or Mini Militia) is a fast multiplayer combat shooter available for mobile devices (Android and iOS). Offering simple core game mechanics Mini Militia is an accessible, addicting and intense mobile multiplayer experience alongside a survival focused single player practice mode.
Regardless of your game mode of choice in Mini Militia you'll have a wealth of weapons from the shotgun to flamethrower or the sniper rifle that all have their specific use case and deal devastating damage to your 2D enemies. With large open maps as your battleground and a jetpack to manoeuvre it is easy to see why the game has attracted millions of app downloads. Other mechanics include melee attacks, zoom, dual stick controls and avatar customisation with some of these limited to Pro Player Pack (paying) players.
The games like Mini Militia below offer a similar experience with a focus on multiplayer games that can be played in your browser or mobile device using LAN, online, offline or even on a single device. While the focus is on shooters other fast paced games that require great reflexes and strategy have also been included.