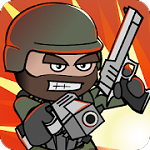 Find more games like Mini Militia (Doodle Army 2) with this list of fast paced and addicting multiplayer games that can be played online or through LAN.
Doodle Army 2 Mini Militia (DA2 or Mini Militia) is a fast multiplayer combat shooter that supports up to 12 players. Available for mobile devices (Android and iOS) the simple game mechanics and ease of access have combined to create an addicting and intense multiplayer experience. In addition to this fast multiplayer Mini Militia includes training, co-operative and survival modes to enhance your skills on the battlefield, making you better prepared for the battles ahead.
Regardless of your game mode of choice you'll have a wealth of weapons from the shotgun to flamethrower or the sniper rifle. With large open maps available and rocket boots on your feet it is easy to see why the game has captured such a large audience. Other mechanics include melee attacks, zoom, dual stick controls and avatar customisation with some of these limited to Pro Player Pack players.
The games like Mini Militia below offer a similar experience with a focus on multiplayer games that can be played using LAN, online, offline or on a single device. While the focus is on shooters other fast paced games that require great reflexes and strategy have also been included.