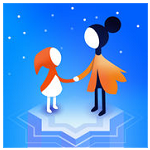 This list of games like Monument Valley features other titles that focus on creating a unique experience with puzzles, illusions and wonderful game art.
Monument Valley launched on iOS devices in 2014 before making its way to other mobile platforms, reaching the highest ranks of the respective app stores soon after release. Taking control of Princess Ida players guide her through illusion filled levels that require basic puzzle solving to advance. These geometry based mazes in each game level aren't intended to be overly difficult with the game opting to instead offer a visually pleasing experience that is more akin to a simple adventure game than a puzzle solving one.
Players interact with the environment of Monument Valley by moving around, altering platforms and creating bridges. The game oftens cue players to drive them in the right direction through things such as colour or using objects and people to block your paths. Each of the levels fits within a different theme and mechanic so that they each feel unique from each other.
The games like Monument Valley collected on this page offer a similar relaxing, puzzle filled and mystifying experience. In these similar video games you'll enjoy surreal exploration and optical illusions in a beautiful game world.