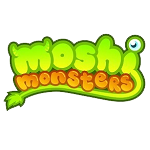 Our collection of Moshi Monsters games offers fun and online virtual pet games like Moshi Monsters for young children and tweens to play.
Moshi Monsters is currently one of the biggest virtual pet experiences on the internet with a member count in the millions. Starting back in 2007 the game quickly realised success in the 5-14 age demographic and now has countless pieces of offline merchandise available in addition to the online game.
In Moshi Monsters players are given the opportunity to adopt a virtual pet from a number of available species. Once selected the player must care for their monster friend by giving them a name and nurturing them in a number of ways. Most means of nurturing a player's monster involves the use of the in game currency, Rox.
This Rox currency is easy for players to acquire and given out for participating on the Moshi Monsters website through games and puzzles. Moshi Monsters also offers some limited options to communicate with other players and for the player to customise their monster or room.
The Moshi Monster games that you will find below are all free to play virtual worlds that are designed for children. The games here focus on the virtual pet experience but do include some general chat based virtual worlds.