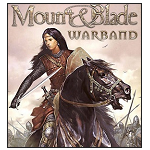 The games like Mount and Blade here offer other action, role playing and strategy blends with a focus on medieval themes that include realistic combat mechanics.
Mount & Blade is a popular medieval series with several games in the franchise that offers a blend of genres across single player and multiplayer experiences content. Predominately focused on crafting your own single player adventure through a world of towns, castles, taverns, quests and combat players embark on an epic medieval adventure to conquer land through strategy and on the ground combat.
This sandbox experience offered by the Mount & Blade titles allow players to explore the world with freedom and act as they wish. With minimal story structure players can choose the role that they want to assume, be it a mercenary for hire, an outlaw or fighting with one of the available factions. While this exploration is done through the world map screen with point and click selections when players do opt to fight you'll go toe to toe with your opponent on the battlefield as you swing your sword or draw your bow to directly influence the battle result.
The games like Mount & Blade here focus on providing a similar strategy and combat experience to the Mount & Blade series with a focus on games that blend genres together in a medieval game setting.