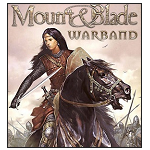 The games like Mount and Blade here offer other action, role playing and strategy blends with a focus on medieval themes and realistic medieval combat.
Mount & Blade is a popular medieval series with several games in the franchise. The games are predominately focused on the single player experience which takes players through an epic medieval adventure to conquer land through strategy and on the ground combat.
The Mount & Blade titles are all a sandbox experience that give players the freedom to explore and act as they wish within the game world. With minimal or no story elements (depending on the game) players can choose the role that they want to assume, be it a mercenary for hire, an outlaw or siding with one of the available factions.
Players explore and travel the game world on the map screen which uses point and click elements. Once players encounter a foe though the game switches to the battlefield, allowing players to participate in the battle and directly influence the result.
The games like Mount & Blade here focus on providing a similar combat experience to the Mount & Blade series with many of the games here also taking place in a medieval world. The games not in a medieval setting were chosen because of their similar game mechanics (blending strategy with action role playing). This list even includes some free and multiplayer games like Mount & Blade Warband.