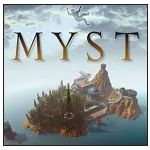 Our collection of games like Myst has a large list of high quality alternatives to the classic and highly popular puzzle adventure game.
In Myst players take control of a stranger who gains access to Myst Island by the use of a special book. Players then discover other books created by the mysterious explorer known only as Atrus which unlock additional locations known as 'Ages'. Slowly the game unfolds with new books which reveal the lore and backstory of the mysterious world.
Gameplay in Myst takes place in first person with players interacting with the game world through a simple but effective point and click system. During this journey plays have freedom to explore and make decisions that ultimately result in multiple endings based on your actions during your adventure.
The games like Myst below offer everything that made the original game and its sequel (Riven) so popular. You'll quickly be immersed in these mysterious game worlds full of adventure and stimulating puzzles that each offer a unique challenge. While some of the Myst clones here use the same point and click system as the original game others use modern game techniques to take you on a puzzle focused adventure across multiple platforms.