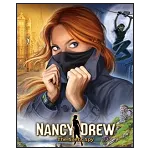 Our collection of games like Nancy Drew has other point and click adventures that will have you exploring immersive worlds and solving mysteries.
With well over two dozen games in the series the Nancy Drew franchise has a long running series of mysteries for players to get deeply immersed in and solve. With the collection of adventures that use point and click mechanics it is also a series that has touched several platforms from PC to Nintendo DS, Wii and smartphones all having at least a handful of games available.
A number of these games are also based on the books by the same name which feature the character of Nancy Drew and are intended for a younger audience with the simple approach to gameplay and various age appropriate themes although have occasionally targeted an older demographic. Gameplay in this large series of games has mostly stayed consistent choosing a fairly standard adventure framework that has players solving puzzles, collecting clues, talking to suspects and slowly piecing together the crime or mystery of that game.
The games like Nancy Drew that you'll find below offer other adventures that use a point and click approach to gameplay while offering immersive worlds full of puzzles as you endeavour to solve the mystery at hand.