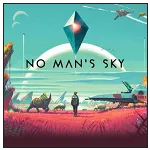 Our list of games like No Man's Sky features other sandbox space titles where you'll explore a vast galaxy, collect resources, trade with aliens and ultimately survive while growing your available tool kit.
No Man's Sky released in 2016 for Windows and the PlayStation 4 before expanding to other platforms as part of its ongoing development cycle. Centred around the objectives of exploration, combat, survival and trading players explore a vast universe of hidden mysteries, resources and alien races alone or with friends. With more planets than you could explore in a lifetime each come with their own unique flora and fauna due to the procedural generation engine within the game which replicates the vastness and uniqueness of the real world.
Playing as a lone traveller (or a small group) and uploading their discoveries into the central Atlas database players embark on a journey to the centre of the galaxy although the sandbox design of No Man's Sky lets players set their own goals. In order to do so upgrades to your environmental suit, jetpack, spaceship, weapons and the all important multi-tool will allow you to jump further and further into space while surviving increasingly harsh environments which house rare of minerals and technologies.
The games like No Man's Sky below offer similar space based gameplay where you'll jump into a space ship to explore the galaxy, mine asteroids, battle aliens, trade with others and collect resources from multiple planets to achieve your objective.