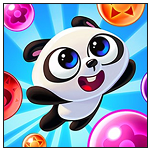 Pop your way through hundreds of more levels in our games like Panda Pop list. Play these free bubble popper games on Android, iOS and PC.
With evil baboons capturing young pandas their chance of freedom falls into the players hands. By blasting, popping and matching your way through over 1000 levels you'll free the pandas in this high quality bubble popper mobile game. While such games are a dime and dozen on the app stores Panda Pop was able to stand out with its cute design and massive number of game levels.
Mechanically Panda Pop is similar to other bubble poppers with players clearing the game board by making matches of coloured bubbles. These bubbles coloured blue, red, green and yellow represent the four elements of water, fire, wood and the sun. Once players fill up their lantern meter of a particular colour a special boost is activated that is tied to that element which adds a strategy element often missing from the bubble popper genre.
The games like Panda Pop contained below offer a similar experience with bubble popping and colour matches being the primary game mechanics. Given the huge number of options in this genre (particularly on mobile) focus has been placed on titles that have a massive number of levels, impressive visuals or go beyond the basic mechanics of the genre.