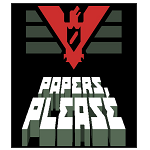 Our list of games like Papers, Please features other thought provoking and dystopian era games where players will be completing real world tasks as part of the core mechanics.
Papers, Please is a highly praised and unique indie game that follows the emotional toll that war and ever changing regulations have on an immigration officer in the fictional but familiar dystopian country of Arstotzka. The primary mechanic of this adventure revolves around players inspecting the required immigration documents for entry and then deciding if the documents presented meet the necessary criteria. Each day new complexity is added to your daily routine, adding new rules to entry requirements, defending yourself from attackers, defusing bombs and other challenges.
For players that aren't diligent or opt to breach the rules intentionally they'll find the government levy penalties against them which directly impacts on the livelihood of their family and may result in their death if players cannot bring home enough money each day. To earn extra money players are often faced with moral dilemmas of breaking the rules or helping the resistance movement which all have their own varied outcomes that result in a number of possible endings.
The games like Papers, Please found below offer a similar experience to the gameplay described above. From multiple endings, direct consequences for your actions, dystopian societies, constantly evolving mechanics, cross referencing of information or realistic tasks as a primary game mechanic.