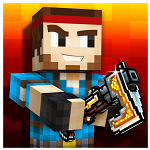 These games like Pixel Gun 3D features alternative pixel shooters with an emphasis on mobile (iOS and Android) titles with a large range of weapons and maps for diverse multiplayer gameplay.
Pixel Gun 3D is a highly popular mobile multiplayer shooter that offers several game modes and over 100 upgradeable weapons for players to take into combat with equally varied game maps. Additional features include a clan system, single player campaign and the ability to create unique skins to show off in front of other players in multiplayer battles.
With tens of millions of downloads across the respective mobile App stores, Pixel Gun 3D attracts one of the largest multiplayer mobile audiences with a healthy community for the co-operative and competitive game modes offered by Pixel Gun 3D. Be it the staple death match formula, team death match variant, capture the flag or one of the more obscure modes each features robust multiplayer combat. With support for up to 8 players (4 in co-operative) and built in chat the multiplayer experience of Pixel Gun 3D has seen it shine in the genre despite the small handheld devices of its player base.
The games like Pixel Gun 3D curated below offer mobile and non-mobile multiplayer games that are easy to get into, have plenty of weapons and offer a wealth of multiplayer with co-operative or competitive options to explore.