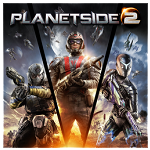 Our list of games like PlanetSide 2 feature other shooters that have large scale battles, vehicle combat, sci-fi themes, varied classes or are free to play.
PlanetSide 2 is a free to play MMO shooter that launched in 2012 after the success of the 2003 original title that featured similar gameplay. PlanetSide 2 is known for its large scale battles that literally take place at a planetary level as players fight over a persistent world of continents and territories. Not only will you play an infantry role in this fight but also command a number of vehicles as you fight for your selected faction. At the heart of these large engagements are 6 classes with their own abilities that belong to one of the three factions who again have their own strengths and weaknesses to utilise with heavy assault, light assault, engineer, infiltrator, medic and mechanical MAX options.
Regardless of the class and faction you select though players will be treated to expansive and large scale combat and a community that has a greater goal than each single battle. These battles are full of familiar FPS title mechanics with a science fiction twist that has players sprinting around protected by a regenerative shield as they unlock the full potential of their class skills and loadout.
This collection of shooter games like PlanetSide 2 focuses on other free to play titles where combat happens on a large scale, includes vehicles or is heavily linked to unlocking new items and abilities as you progress.