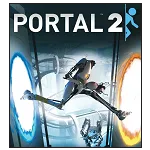 Our collection of games like Portal offers other first person puzzle adventures with unique mechanics for puzzle fans to solve alone or with others.
The Portal series was launched in 2007 with a mysterious storyline that players advance through by using portal science to solve a range of puzzling rooms. Played in a first person perspective the original Portal was a reasonable short solo adventure with the eventual 2011 sequel offering a longer form co-operative experience. Set within the same universe as the popular Half-Life franchise players explore the Aperture Science Laboratories with a wealth of secrets to uncover.
The core puzzle mechanic of Portal is the portal gun that can create two connected portals for players and objects to teleport through. Building from this simple premise each puzzle room offers new mechanics and challenges for players that need to be mastered and combined to progress through the story adventure. This includes using your momentum, objects from the environment and different surfaces that create different portal interactions.
The games like Portal on this page focus on other first person puzzle games that utilise strange and unique mechanics to solve puzzles that slowly evolve over the course of a mysterious storyline.