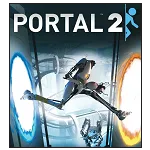 Our collection of games like Portal offers other first person puzzle adventures with unique mechanics for puzzle fans to solve.
The Portal series was born in 2007 and received plenty of praise for its unique puzzle solving mechanics and the way in which players advanced through the story. The original was fairly short in length and left players wanting more which led to the development and eventual release of a sequel in 2011 which introduced co-operative mechanics into the series.
Portal's premise is simple, the player is given a gun that is able to create two connected portals that can be walked through. While many of the early levels won't require you to stress your brain too much the game quickly throws new mechanics and ways of using the portals which have to be mastered and ultimately combined throughout the adventure.
Portal isn't just about the puzzle solving experience though with much of the great experience coming from the instructions that are relayed to the player through GLaDOS during the game which creates a bone chilling atmosphere.
The games like Portal on this page focus on other first person puzzle games that utilise strange or unique mechanics to solve puzzles. If your idea of enjoyment is scratching your head at some truly bizarre and difficult puzzle games then you'll feel at home with what this page has to offer.