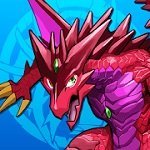 This collection of games like Puzzle and Dragons features the best mobile (iOS and Android) games that combine puzzle solving with monster collecting role playing features.
Puzzle and Dragons builds on the familiar match three puzzle genre by combining fast paced gameplay with monsters to create an addicting but simple role playing and collection experience. By building a team of monsters players will fight their way through dungeons, events and various other content challenges. With thousands of monsters that each come with their own attribute, designs and evolution Puzzle and Dragons offers a wealth of team options and longevity.
In order to utilise your team effectively though in Puzzle and Dragons players will have to rely on their puzzle matching skills. By matching colours that correspond to those on your team you'll trigger an attack from that specific monster. While simple at it's the core the gameplay quickly becomes challenging as players seek to acquire, select and assemble their ideal team and trigger combo attacks from careful strategic puzzle matching.
The games like Puzzle and Dragons featured here are primarily available on iOS and Android mobile devices and offer similar match three puzzle gameplay and monster capture mechanics.