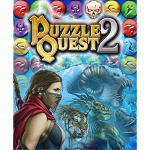 Our collection of games like Puzzle Quest features other puzzle matching games that blend with RPG elements on multiple platforms.
The Puzzle Quest franchise is a well-known series of games that combines a match three puzzle game board with role playing elements. The game contains a large number of titles across various platforms along with a number of licensed titles (such as Marvel Puzzle Quest).
Taking control of a character (or several) that each have their own statistics players will create matches of game pieces to trigger attacks, spells and other actions. Players must also take into account how their moves will impact the game board as to prevent powerful matches from opening up for their opponents. Along the way quests will become available to players while equipment and character levels will improve.
This simple nature of the game has allowed it to thrive on countless platforms and has been revived on mobile in particular where the simple mechanics but added depth is well suited.
The games like Puzzle Quest found here cover a range of platforms (PC, iOS, Android) allowing you to get your puzzle fix regardless of preference. These games just like the Puzzle Quest franchise offer a three match puzzle game on the surface but also offer RPG elements.