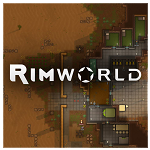 This assortment of games like RimWorld provides other challenging construction and management titles for strategy fans to conquer.
RimWorld launched into an Alpha stage in late 2013 with consistent improvements since that time leading to an eventual 2018 release date. Set on a stranded planet after players crash land their spaceship into the surface your objective is to escape the planet. This requires you to manage your colonists, collect the resources from the planet biome you select and adjust to the various random events that are thrown at you by the AI storyteller who have their own personalities.
Accordingly during this journey back into space to escape the planet players must employ efficient resource collection and careful colony management which requires mastery of many mechanics. This includes colonist moods and needs, battles against a range of enemies, crafting technology enhancements, questing and other management decisions that all have a different impact on your adventure.
This list of games like RimWorld feature similar in depth mechanics that require players to master each one to ensure management success with emphasis placed on games with similar science fiction themes as well.