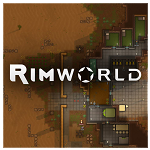 This assortment of games like RimWorld provides other challenging construction and management titles for strategy fans to sink their teeth into.
RimWorld launched into an Alpha stage in late 2013 with consistent improvements since that time, as a small team though the lengthy development phase has led players to seek other alternatives while they await the game to reach completion and escape the Early Access status.
Set on a stranded planet after players crash land their spaceship into the surface your objective is to escape the planet by collecting the resources you can and adjusting to the various random events that are thrown at the player. These randomised situations blend good and bad situations that can boost your potential or make escape slip through your fingers.
During this journey back into space players must employ efficient resource collection and careful colony management. Generating and transporting electricity around your settlement is one such key mechanic. Other game aspects with detailed mechanics include health, seasons, temperatures, biomes, tactical combat and even crew psychology, all of which have changed and evolved as the game continues to progress through development.
This list of games like RimWorld feature similar in depth mechanics that require players to master each one to ensure management success. Emphasis has been placed on games with similar science fiction themes as well.