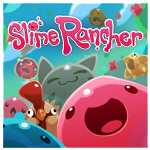 Our list of games like Slime Rancher features other unique titles that use farming or breeding mechanics while encouraging exploration and challenging the player in interesting ways.
Slime Rancher entered Steam Early Access in early 2016 and was rapidly praised for its unique gameplay mechanics and presentation. Following a rancher by the name of Beatrix LeBeau players will explore an open world as they attempt to wrangle various slimes. Once placed in your own slime farm players are tasked with feeding, raising and breeding these slimes while expanding your farm as desired. With dozens of slimes that range from friendly to hostile and have their own diet requirements this slime ranching challenge is anything but easy.
By caring for slimes and feeding them the appropriate food items based on the type of slime you'll be able to produce plorts, one of the games main currencies that can be exchanges for gold to upgrade your farm further and explore new locations. In order to achieve these objectives players are armed with a sucking vacuum tool called the VacPack that lets you suck in objects (or slimes) and release them later.
The games similar to Slime Rancher below feature other adventures that use farming or breeding in interesting ways. The majority of titles below also feature open ended gameplay that let the player choose their own destiny and explore varied game locations.