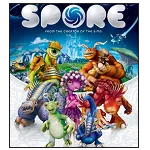 Our collection of games like Spore mixes evolution simulation and god games to give you a diverse list of great video game titles.
Spore offers a unique experience due to the wide range genres it contains within a single video game. The core gameplay elements of this experience though mostly revolve around life simulation, evolution, strategy and elements of other god games. Spore has drawn attention in particular for its huge amount of customisation which allows you to create anything you can imagine using the available tools.
Ultimately in Spore players take their own personalised species through the chain of evolution. The gameplay of Spore is split up into several different stages of life from a single cell to a space age race capable of exploring the entire galaxy with the goal to reach the centre. Each of these stages is open ended as to how you achieve advancement to the next stage of evolution with aggressive and peaceful options which determine your ongoing special species traits.
The games like Spore below have a focus on evolution simulation and sandbox gameplay that incorporate all of the genres that are present in Spore. For fans of space exploration and colonisation in particular we have also included a number of games like Spore's space stage.