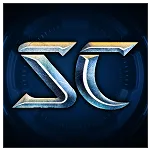 Try these space strategy games like Starcraft. Our page features the best games in the genre that let you fight across the stars in science fiction strategy settings.
StarCraft is a long running real time strategy series developed by Blizzard Entertainment. With the original launching in 1998 players had to wait over a decade (2010) for the sequel (StarCraft 2) to be released which was split between 3 games each exploring a campaign of the 3 game races (Terrain, Zerg and Protoss).
Not only is the series well known for its strong story based campaigns it's also a highly popular competitive game (particularly in South Korea). This popularity in the competitive environment has ensured that the multiplayer scene for both StarCraft games remains strong.
StarCraft 2 was built with many multiplayer features in mind to continue the competitive nature of the first game through in built ranking systems and mechanics. This makes the series perfect for gamers who want a multiplayer RTS experience that won't die out quickly and constantly has sufficient community to find a versus game.
A big element to the long term success of the series is the finely balanced and unique races (Terran, Zerg and Protoss). Each comes with their own strategies to master and players get the opportunity to play their own individual campaign in the single player portions of both games. In addition to the balanced races units adopt a rock-paper-scissors formula in most situations with each having clear counters.
The games like StarCraft 2 that you'll find below focus on other real time strategy games with science fiction elements to their story. The titles here also have a focus on balanced and active multiplayer scenes for gamers that want a RTS game to verse other players competitively.