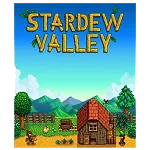 Our list of games like Stardew Valley features other impressive farming simulation and role playing titles for PC and other platforms.
Stardew Valley was released in early 2016 to an impressive reception for gamers who had long craved a farming RPG title for their PC. With inspiration from a range of different genres the game had widespread appeal, particularly for players who were seeking a very open ended adventure.
In the game players take over an old farm from their grandfather in the region known as Stardew Valley. A primary mechanic of the game is the careful management of time and energy to ensure you are using each day efficiently to revive your farm. This involves multiple angles of gameplay such as raising crops, breeding livestock, collecting ores, crafting items and participating in the social elements that Stardew Valley has to offer. Additionally players can marry, explore a deep cave, customise their character and restore the entire town back to glory.
The games like Stardew Valley that you'll find below offer a mixture of farming titles for various platforms (PC, iOS and consoles). These games mix management, RPG and open ended stories in a similar way to Stardew Valley.