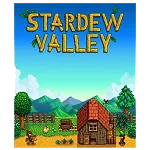 Our list of games like Stardew Valley features other open ended farming simulation titles that combine role playing and endless activities for PC and other platforms.
Originally released in 2016 for Windows Stardew Valley is a simulation role playing game centred around the restoration of a farm that has since been ported to various console and mobile platforms. Drawing inspiration from games before it in the genre and inspiring many similar games post release Stardew Valley is an open ended adventure with a wealth of activities for players on the path to full restoration of the farm and surrounding community.
This restoration requires players to carefully manage their time and energy each day with a large list of possible activities with skills that increase over time. Primary game activities include raising crops, breeding livestock, collecting ores, crafting items and participating in the social elements that Stardew Valley has to offer through the town NPCs in single player or online multiplayer with other players. Beyond this core gameplay loop players can marry, customise their house or character and attempt to complete a range of challenging collections.
The games like Stardew Valley below offer other farming adventures to play alone or with friends where you'll manage farm activities and other role playing activities in an open ended game framework.