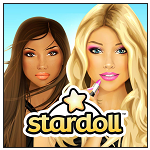 Our collection of games like Stardoll features some of the best fashion and dress up games designed for girls of various ages for either your browser or mobile (iOS/Android) device.
Stardoll offers one of the largest communities of dress up gamers online with its popular website attracting hundreds of millions of members since it launched in 2004. Designed for the teenager or young women who have a creative flair for fashion Stardoll users create their own avatar (MeDoll) and participate in shopping, dressing up and various related community features.
On the Stardoll website players can heavily customise their experience which allows your creativity to run wild with all of the fashion items available. With all sorts of new, old and trending fashions there is something for all fashion tastes and desires. Creating your MeDoll in Stardoll is easy with thousands of potential combinations available you can create your own unique look. This personalised look includes hairstyles, accessories, designer fashions, accessories and more as you create your superstar, enter contests or decorate your own virtual home instead.
The browser and mobile games like Stardoll found below allow you to do everything that you can do in Stardoll from shopping, dressing up your avatar, decorating a home or making new friends that also have an eye for fashion.