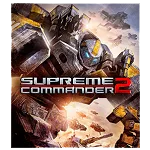 This assembled list of games like Supreme Commander features other classic games in the real time strategy genre with a warfare focused experience.
With two core games in the franchise the gameplay and storylines of the games are well defined and in turn have captivated a dedicated following. The series focuses around giant mechanical units known as Armored Command Units (ACU), these serve as the heart of your strategy where all units, technological upgrades and structures will stem from.
Featuring three separate factions with their own unique strategies to employ and four levels of tech for structures and units to fall into the depth of the experience is the driving force of the franchise success. Combined with simple mechanics and a warfare focused campaign it offers military based real time strategy at its finest.
The games like Supreme Commander that you'll find here on the editorially selected list offer a similar level of real time strategy experience for you to sink your teeth into. Focusing on the likes of warfare and multiple levels of technology to research these games will offer dozens of strategic based game hours.