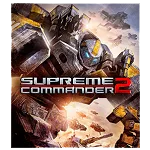 This assembled list of games like Supreme Commander features other classic games in the real time strategy genre with a warfare focus in the present or future.
The Supreme Commander series has two core games in the franchise and is a spiritual successor to the 1997 strategy game Total Annihilation. The series focuses around giant mechanical units known as Armoured Command Units (ACU) which serve as the heart of your strategy where all units, technological upgrades and structures will stem from. Protecting this ACU is also a key objective in the skirmish mode and story campaign missions amongst other level specific objectives.
Featuring three separate factions in the original (Aeon Illuminate, the Cybran Nation, or the United Earth Federation (UEF)) which was further expanded with the Seraphim faction in the expansion and Supreme Commander 2 players have several faction strategies to explore in campaign and skirmish modes. Central to this strategy is the four levels of technology for structures and units that slowly progress players through basic units to more efficient and powerful variants.
The games like Supreme Commander that you'll find here offer a similar real time strategy experience with a present or modern day warfare theme that has you advance through multiple levels of technology to achieve your strategy objectives.