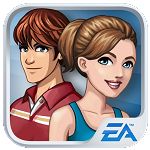 Our assortment of games like Surviving High School has other great visual novels with a focus on high school settings that let you make decisions and experience a changing storyline.
Surviving High School is a highly popular visual novel game that was developed by EA for Android and iOS that was released in 2005 and shutdown in 2014. The game is set in a high school and is split into various episodes as players guide the story with decisions that impact the path that the story takes. Dealing with many familiar high school themes and challenges it was designed as a game for those of high school or near high school age.
Gameplay in Surviving High School recreates the experience of other choice orientated visual novels with dialogue reading and decisions as the primary mechanics. Set in Centerscore High players assumed the role of a variety of students in different social groups and make tough decisions for them that change the story in both positive and negative ways.
The games like Surviving High School that you'll find below focus on other visual novels that take place in a high school setting. You'll also find a number of different settings and themes for those people that simply want other games that let you make decisions and watch their impact on the story direction.