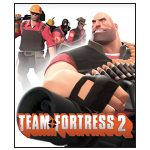 Our collection of games like Team Fortress 2 (TF2) promises other free to play shooters with a focus on light-hearted games with multiple classes.
Team Fortress 2 (TF2) originally launched as a paid title in 2007 but since 2011 has been a free to play experience that is available through Valve's popular Steam platform. The game stands out against other multiplayer shooters because of its light-hearted and humorous approach to gameplay.
The maps and class options that Team Fortress 2 offers is also well ahead of most first person shooters (especially free to play ones). Class options not only have a different gameplay style but also their own voice acting, backstory and distinct visual appearance.
In regards to gameplay elements Team Fortress 2 is not that different to other alternatives with players able to choose different weapons with their own strengths to dispatch the opposing team or secure the objective on the given map. Where gameplay does take a unique turn though is the item drop and crafting systems which is responsible for a player's available weapons.
The games like TF2 on this page include free and paid alternatives for players looking for a new first person shooter. This list focuses on providing options with a similar light-hearted approach to gameplay although some are included simply for their strong multiplayer communities.