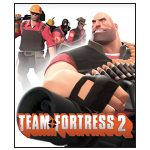 Our collection of games like Team Fortress 2 (TF2) features other free to play and paid shooters with a focus on strategic game modes that utilise multiple classes with their own skills or equipment.
Team Fortress 2 (TF2) originally launched as a paid first person shooter title in 2007 although it adopted a free to play model in 2011 that significantly enhanced the size of the player base. Opting to offer something different to other multiplayer shooters of the day TF2 presented itself with a light-hearted and humorous setting which it combined with classes and strategic game modes.
These class options each offer their own voice acting, backstory, distinct visual appearance and most importantly different gameplay style driven by their unique equipment mechanics. Broadly falling into the categories of offensive, defensive and support players can play as the speedy scout, reliable rocket launching soldier, sneaky spy and several other options. Overarching this is the unique item drop and crafting systems that can grow a players arsenal of equipment for their favourite class and unlock opportunities to further refine your class playstyle.
The games like TF2 on this page include free and paid alternatives for players looking for a new multiplayer first person shooter built around different classes and strategic game modes that require you to utilise your character specific skillset.