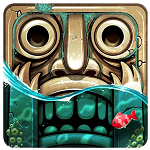 Our list of games like Temple Run features the very best endless running games for your iOS and Android users to get hooked on.
Temple Run started in 2011 and popularised the endless running genre which also led to sequel for the game in 2013. With billions of game downloads Temple Run is hands down the leader in this ever growing genre in mobile gaming.
Playing as an explorer running from demonic monkeys Temple Run challenges players to run around corners, jump over gaps in the terrain or slide under tree branches in hope of escape. To assist the player a variety of power ups will appear to give the player invincibility, a massive boost or help them collect coins.
These coins can then be spent on single use utilities to give players a head start in their next game or increase the potency of the available powerups. This gameplay repeats in an endless cycle as players attempt to beat their friends for bragging rights.
The endless running games like Temple Run that you'll find featured on this page offer similar addicting gameplay. In these games you'll run through all sorts of environments and experience some interesting mechanics that improve on the endless running formula.