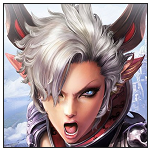 Our compilation of games like TERA features other diverse 3D MMORPG adventures with strong active combat gameplay and fantasy themes.
TERA (The Exile Realm of Arborea) is a MMO that first launched in the Korean market in 2011 as a paid title before eventually transitioning to a free to play model. Set in the fantasy world where the titans of Arun and Shara roamed before sleeping to form the games continent players explore a world of fantasy with quests and challenges that have you fighting to defend those in need.
Focused on an active style of combat players in TERA can't rely on automatic targeting for their attacks like other MMO titles. Instead players will have to aim and dodge attacks with their crosshair and careful character positioning. This combines with a large selection of races and classes which provide a diverse range of options for players to adopt a playstyle and strategy they enjoy.
The games like TERA on this page focus on other MMO games with a similar combat system that requires you to be actively engaged with movement and attacks to overcome enemies.