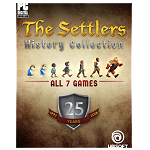 Our collection of games like The Settlers has other titles that combine real time strategy and simulation together as you lead your own settlement.
The Settlers is a long running collection of strategy games that challenge the player to build up a thriving settlement in a medieval style era of human history. Like many long running franchises it has changed and evolved its gameplay for over a decade in the core PC games while also expanding into smartphone adaptions and even a free online game (The Settlers Online).
Alongside the evolving gameplay The Settlers has consistently delivered mechanics that revolve around giving you multiple paths to pursue your strategy. These paths generally include a military based approach, the science route and a trade focused one that all have their own considerations. Combined with strong campaigns, multiplayer game modes and plenty of sandbox options that unleash players on an endless number of maps The Settlers is strategy series offers a wealth of strategic content.
The games like The Settlers that you'll find here have similar strategy experiences and offer an adventure that gives you multiple ways to reach the end objective for your settlement.