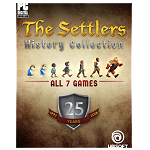 Our collection of games like The Settlers has other games that combine real time strategy and simulation together as you lead your own settlement.
The Settlers is a long running collection of strategy games that challenge the player to build up a thriving settlement in the medieval style era of human history. Like many long running franchises it has changed and evolved its gameplay for over a decade and continues to attract a wide audience of players. In addition to PC games the series has smartphone adaptions and even a free online game (The Settlers Online).
Despite the evolving gameplay some elements have remained a staple of the series. Most notably is the focus on being able to pursue multiple paths. Paths include a military based approach, the science route or a trade focused one. With these three paths available players can choose one that works for them or use them all to improve replay value in the game.
With strong campaigns, multiplayer game modes and plenty of sandbox options that unleash players on an endless number of maps The Settlers is a series that just keeps giving to players.
The games like The Settlers that you'll find here have other strategy experiences just waiting for you to explore and promise an adventure that gives you multiple ways to reach your end objective.