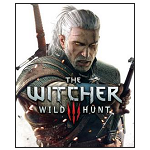 Our collection of games like The Witcher series features other vast role playing titles with impress fantasy worlds where you'll utilise swords and magic against enemies.
Based on a series of books The Witcher video game series started in 2007 and has since expanded to sequels, expansion packs and other forms of media. Set in a dark fantasy world with medieval elements the world of the Witcher is one at war that is full of monsters and magic. Central to this story is Geralt of Rivia and the Witcher schools who are specialist monster slayers on the edge of society often hired for tasks too dangerous for normal folk.
Combining action role playing with hack and slash sword gameplay The Witcher franchise has players exploring lands of war where monsters lurk beneath the surface. Fighting human and monster foe alike players complete a main quest line amongst countless side quests and side activities while improving Geralt's power through skills and equipment. Central to the storyline is also the moral choices players will face with many falling into grey areas where neither decision can be considered right or wrong but may impact your future encounters in different ways.
The games like The Witcher that you'll find below have a similar focus on dark settings, moral choices and flowing action based combat with swords or magic. Whether its games like The Witcher 3 or the original Witcher adventures you'll find a PC or console alternative to the dark action packed franchise of video games.