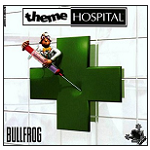 Our assembled list of games like Theme Hospital has other business simulation games with plenty of depth and touches of humour in their gameplay.
Theme Hospital is one of the classic experiences in gaming and came from the popular game developer, Bullfrog Productions. Challenging players to successfully manage a hospital the game packs in plenty of strategy and management with several humorous undertones. In classic Bullfrog style players have minimal control of patients directly instead controlling them through other means.
To create your hospital in you'll have to build the necessary rooms, hire staff and make key decisions that ultimately impact the effectiveness and profitability of your hospital. Split into levels players have to meet certain goals and objectives before advancing with each level introducing more challenges through additional rooms and diseases to overcome.
The games like Theme Hospital on this page focus on providing other games with business and simulation elements. Many of these games also have humour style elements just like Theme Hospital for those that want more humorous games in this genre.