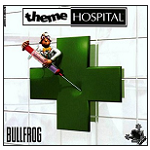 Our assembled list of games like Theme Hospital has other business simulation games with plenty of depth and touches of humour in their gameplay with a focus on running real world businesses.
Theme Hospital was developed by Bullfrog Productions and originally released in 1997 and considered to be one of the classic tycoon video game experiences. Challenging players to successfully manage a hospital the game packs in plenty of strategy and management with several humorous undertones and pop culture references of the day. Like other popular strategy titles from Bullfrog Production players have minimal direct control of patients and instead have to rely on methods of indirect control such as the design of your hospital.
To create your hospital in Theme Hospital you'll have to build the necessary rooms, hire staff and make other key business decisions that ultimately impact the effectiveness and profitability of your hospital. Split into distinct level scenarios players have to meet certain goals and objectives before advancing with each level introducing greater challenges through additional diseases to overcome and rooms to treat patients.
The games like Theme Hospital on this page provide other games with business and simulation elements while also offering humour and unique challenging themes.