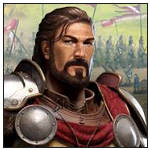 Our games like Tribal Wars list features a number of medieval RTS games that you can play for free in your browser to find your new next online strategy game.
Tribal Wars (TW) is one of the original games in the MMORTS genre released in 2003 and eventually superseded by its sequel (TW2) in 2014 with both seeing high levels of success despite being in a highly competitive genre. The original Tribal Wars was also one of the first browser based games to move into the mobile world by developing apps for its users to accompany the browser based client and expand the game to iOS and Android players.
Both games in the Tribal Wars series are set within a medieval setting and lets players prove their power by putting village against village in a strategy environment. To successfully claim other villagers and expand their empire players must carefully make allies and plot their next move with their available strategic tools. A process that usually involves maximising resource generation and carefully selecting troop distribution of your fighting force to counter that of your opponents.
The games like Tribal Wars on this page offer a similar massively multiplayer online strategy experience with emphasis on free to play games that are accessible either in your browser or through a smartphone app.