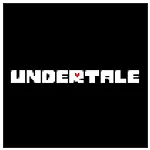 Our selection of games like Undertale features unique RPG titles that focus on dark humour, story, puzzles and simple battle systems that are optional.
Spawning from the GameMaker engine, Undertale was released in late 2015. In this unique title players explore a fictional underground world as a human child. Within this strange underground area players encounter a vast array of different monsters. During your adventure to return to the surface you'll have to make key decisions about killing or befriending those that you encounter which in turn affects the story outcome and dialogue.
Telling the story of Undertale through impressive writing and characters has allowed the title to receive countless praise. This writing is often sarcastic, ironic, dark and constantly breaks the fourth wall. A unique combat system is also present in the game which includes players attempting to use non-violent actions on the attacker and dodge bullet like attacks from enemies by moving their heart out of harm's way.
The games like Undertale that you'll find below offer similar experiences and mechanics to Undertale. These titles offer meta-fictional elements in both their story writing and gameplay, ensuring an ironic tale that use self-reflection to point out the relationship between fiction and reality. The collated options below also feature games with combat systems that are easy to learn, can be avoided entirely or do not require significant grinding.