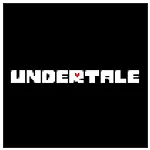 Our selection of games like Undertale features unique RPG titles that provide dark humour, story, puzzles and simple core battle systems that are sometimes optional.
Released in 2015 Undertale is a unique title where players explore a fictional underground world as a human child which is full of strange encounters and monsters. During your adventure to return to the surface you'll have to make key decisions about killing or befriending those that you encounter which in turn affects the story dialogue and outcomes. Supporting this story of Undertale with impressive writing and unique characters players can each approach this adventure in their own way.
This writing in the Undertale universe is often sarcastic, ironic, dark and constantly breaks the fourth wall. A unique combat system is also present in the game which includes options for players attempting to use non-violent actions on the attacker and dodge bullet like attacks from enemies by moving their soul heart out of harm's way. During this adventure players will also solve a number environmental puzzles where you'll move blocks, find hidden paths and activate switches.
The games like Undertale below offer similar unique experiences that have meta-fictional elements in their story, writing and gameplay that ensure an ironic tale based on your decisions.