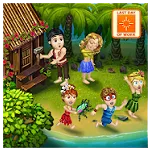 This assortment of games like Virtual Villagers features other unique management games where you'll guide a settlement through objectives and survival.
The Virtual Villagers franchise is a series of simulation games centred around villagers developed by Last Day of Work. The various games are very puzzle centric that require the player to not only help their villagers survive and thrive but also use them to solve a range of puzzling situations on the island of Isola.
This mixture of puzzles, strategy and management has made Virtual Villagers one of the most popular games to come from Last Day of Work with few games matching its unique approach and mixture of genres. The many games in the series are perfect for casual gaming.
The games similar to Virtual Villagers here offer comparable management experiences where players will have to manage a settlement, solve puzzles and achieve a range of goals at the same time. The listed options here include free to play options and settings beyond island villagers for those that want to conquer a different management setting.