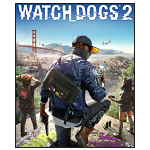 Our assembled list of games like Watch Dogs offers more open world action adventures where you can explore, hack and commit crimes.
Watch Dogs puts players in the shoes of Aiden Pearce, a master hacker. Using the digital trails that people leave behind the player attempts to find those hurt your family.
This goal drives you to monitor, track and hack using the city's network. From accessing cameras, to gaining personal information and even controlling traffic the city of Chicago just became your own personal weapon.
Traditional combat is also available to players in Watch Dogs with melee combat and conventional weapons in your arsenal. An open world game set in a city wouldn't be complete without the ability to explore the world behind the wheel of a car though and with over 60 cars there is a ride for everyone in Watch Dogs.
The games like Watch Dogs that are featured below all have open world elements with a focus on other games that encourage stealth and hacking over direct confrontation. This list also covers all platforms (Windows, PlayStation and Xbox) ensuring all gamers have an option regardless of their preferred and available platform.