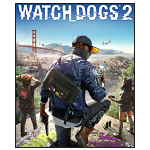 Our assembled list of games like Watch Dogs offers other diverse open world action adventures where you can explore, drive, hack and sneak through a quest driven storyline.
Watch Dogs is a series of action adventure games based on the modern technological world of the future which first launched in 2014. Offering a wealth of open world content Watch Dogs features a familiar formula of exploration and side activities alongside the main questline. While this questline is different in each game recurring themes include large companies full of corporate corruption, criminal organisations and hacking of the central Operating System (ctOS) that runs the city and stores citizen personal information across several fictionalised cities.
This ctOS network is also vital to your own story allowing you to hack the city to help with combat or puzzle solving by accessing cameras, obtaining information or controlling traffic. Other core gameplay elements of Watch Dogs includes stealth mechanics, driving, fighting and shooting with an arsenal of weapons. During these activities players will need to ensure they don't bring unwanted attention from authorities by being caught performing illegal activities.
The games like Watch Dogs featured below have similar open world elements with a focus on other games that offer stealth or hacking over direct confrontation as you complete your main questline or various side activities.