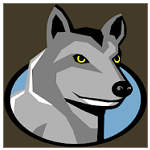 Our collection of games like WolfQuest offers other virtual wolf games where you can play as a wolf or other animals in social or quest focused adventures.
WolfQuest is a unique experience that simulates the life of a wolf and gives players insights into the world of these canines. The game has been around since 2007 and was originally developed to better educate people about the importance of wolves in the environment and the roles they fill within their habitat. Following this initial release WolfQuest expanded its mechanics with several releases across a number of years.
Gameplay in WolfQuest has players assuming the role of their own wolf and exploring the wide open world that the game offers with locations such as Amethyst Mountain, Slough Creek and Lost River. WolfQuest allows players to customise their wolf to their liking with gender, fur and naming options available and players can then either explore this world by themselves or team up with some friends to create their own wolf pack. Objectives of WolfQuest are similar across these modes with an emphasis on survival as players hunt for food, locate a mate and avoid rival animals.
The games like WolfQuest on this page all let you play as an animal of some description with their own survival challenges with a mixture of single player and multiplayer adventures.