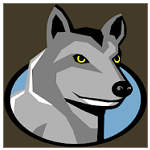 Our collection of games like WolfQuest offers other virtual wolf games where you can play as a wolf or other animals.
WolfQuest is a unique experience that simulates the life of a wolf. The game has been around since 2007 and was originally developed to better educate people about the importance of wolves in the environment and the roles they fill within their habitat.
Gameplay in WolfQuest has players assuming the role of their own wolf and exploring the wide open world that the game offers. WolfQuest allows players to customise their wolf to their liking with gender, fur and naming options available. Players can then either explore this world by themselves or team up with some friends to get their own wolf pack.
In order to survive players will have to hunt while also avoiding many dangers and enemies. Players also have the option to find a mate in the game world to accompany them.
The games like WolfQuest on this page all let you play as an animal of some sort. Some of these games are focused on simulation style gameplay while others are similar to more traditional games. This list has been put together to ensure there are game options for multiple platforms and budgets.