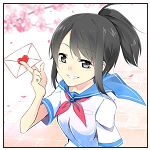 These games like Yandere Simulator feature stealth action gameplay where you gather information and silently eliminate enemies in unique settings.
Yandere Simulator follows the daily activities of schoolgirl Ayano Aishi, referred to as Yandere-chan. Central to the game is her obsession with a boy at her school nicknamed Senpai with a Senpai shrine of stolen items in your bedroom. Unfortunately for you Senpai is quite popular and over the course of 10 weeks you'll have to eliminate your 10 rivals to prevent them from confessing their love to Senpai before you can.
Eliminating in Yandere Simulator includes murder, social sabotage and blackmail although all have to be secretly completed to maintain your innocent schoolgirl persona. If players are caught doing an activity they'll lose reputation at school and a game over heart broken screen if caught committing a murder. While still under development the eventual game release will be a sandbox stealth title which allows players to alter their approach and achieve their rival elimination goals in multiple ways.
The games like Yandere Simulator selected here feature similar mechanics including sandbox design, stealth, unique settings and school simulation that require you to collect information, eliminate targets or explore school based game worlds.