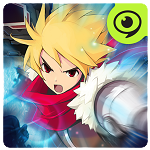 This compilation of games like Zenonia lists other great action role playing games for portable platforms (mobile, iOS, Android, PSP, DS) where you'll command a hero through story and combat.
The Zenonia franchise is a collection of role playing games on various portable devices that feature a similar core of action role playing albeit changing classes and stories. Particularly popular on mobile Zenonia has a number of iOS and Android titles that have become synonymous with the mobile action RPG genre and continues to grow its feature list and number of playable hours with each new instalment.
For the most part all the Zenonia games follow a similar storyline structure and gameplay flow with players taking on the role of a hero fighting against a form of evil in a fantasy world. Along the way players experience strong main storylines but also have the option to pursue many side quests that explore the game world in more depth. All the while players are increasing their strength with new abilities and equipment to tackle greater challenges towards the final boss showdown.
The games and apps like Zenonia collected on this page below offer other great adventures that mix action and role playing together on a portable device and offer endless hours of story, combat and character development.