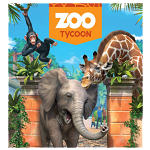 Our collection of games like Zoo Tycoon brings you other business management games with a focus on animal themed alternatives.
Zoo Tycoon is a long running series of games that combines tycoon and business simulation together. Starting in 2001 the series now has many games and expansion packs that have all seen varying levels of success.
As the name of this franchise suggests the focus is on building a profitable zoo using the available tools. These tools allow players to design their own habitats to make their animals feel at home and profitable stalls to extract maximum value from each visitor. By combining the hundreds of animal options players strive to create a zoo that has both happy animals and guests which in turn leads to financial success and more options to expand.
As is standard for the genre Zoo Tycoon allows players to play through a number of scenarios or chase their dreams of the ultimate park in the free form modes that let you run wild with all the game tools at your disposal.
The games like Zoo Tycoon here offer other simulation and tycoon experiences with a focus on titles that let you design zoos, parks and pet shops.