Cookie Run: Kingdom offers players a sweet adventure full of cookie heroes as you recruit your perfect team of sweet treats to combat the growing evil threat across the fantasy land. Available for iOS and Android devices Cookie Run: Kingdom belongs to the genre of hero mobile gacha titles with gameplay split between developing an efficient cookie kingdom base and battling through PvE or PvP content.
While this is a genre that has a wealth of low and high quality options within it Cookie Run: Kingdom is no doubt on the higher end with fantastic production quality across world design, cut scenes, voiceovers and general game mechanics. Players are introduced to all of this from their first minute after opening the respective game app and a quality level that holds true across hundreds of hours of story and other challenge content.
The foundation of this story is the story of the five cookie heroes who were blessed with the power of the Soul Jam that provided them immeasurable kindness and power in the cookie realm. With this cookie realm home to countless cookies baked in the houses of Witches that have escaped they provided stable leadership to the cookie orphans. Like all golden ages of prosperity though this came to an abrupt end following the rise of a harbinger of darkness who infested the land with evil and dispatched the five hero cookies in the process. Now looking for a new cookie hero players join the world as GingerBrave a cookie that has recently escaped the grasps of a Witch and has power that has not been seen for centuries.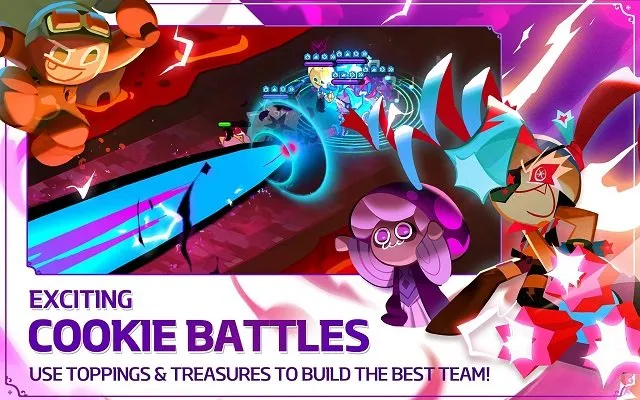 After fighting off a few enemies that have been manipulated with darkness players meet up with the Sugar Gnomes who have been hiding in wait for the return of cookie power and ready to help your build a new kingdom safe haven. With complete control over your kingdom layout design this serves as your base of operations where you advanced through kingdom levels and building choices to provide important resources for kingdom, story and character progress. This kingdom also has a wealth of impressive decoration themes and large landmark buildings that generate important decor points as part of this progression and give decorations a much needed reason to be constructed compared to similar games.
While this cookie kingdom is the base of your operations and provides useful bonuses for your goal the heart of Cookie Run: Kingdom is creating the best cookie team possible for PvE and PvP. Drawing from a pool of nearly 100 uniquely powerful cookies that players collect through progression and real money gacha mechanics. With each having a distinct visual design, skill and rarity creating a team of 5 is no easy task and often something you'll adjust depending on the game stage at hand. Within each of these stages you'll fight against similar sugary themed characters from Ginkgoblins, blueberry spiders, brown sugar golems, liquorice hounds and skelecakes. Automatically attacking enemies that are encountered along the preset stage path players can also activate each cookie skill at the right time to maximise your chances of success or completely auto the battle instead.
Your starting hero of GingerBrave for example is a charge specialist who feels at home on the front line and happily charges through enemies with aggressive force. Soon after your first battles you'll be joined by the defensive focused Strawberry Cookie who spins her lollipop in a small area of effect for damage, the magical Wizard Cookie who can call down a magical lightning storm and Custard Cookie III who is a rear healer for your team.
These different archetypes and position preferences are at the heart of developing a team with sufficient defence and attack although later game you'll be able to customise the core hero strength through toppings that you collect and attach to each cookie. Toppings are equally important in the PvP arena, guild content and additional challenge PvE content that each ensure players always have that next level of cookie power to achieve.
Summary:
Develop your own cookie kingdom to serve as your platform to retake the sugary lands.
Create a team of your 5 favourite cookie heroes with their own specialties, skills and team roles.
Customise your team with powerful toppings to push them through the ever increasing PvE and PvP challenges.
Significant production values throughout your adventure with high quality cut scenes, sound design, voiceovers and visual designs.
Free to play hero collecting and auto battler for iOS and Android devices.
Links:
Videos:
Review Platform: Android