Dragon Quest Monsters: Joker 2 is the second game in the series for the Nintendo DS and was released in 2010 (Japan) with a US game release in September 2011. Marking the fifth game in the broader Dragon Quest Monsters series you'll experience a blend of familiar and new mechanics which all revolve around exploring areas to tame wild monsters. An extended edition of the game titled Joker 2 Professional adds 100 more monsters along with new game locations although does not alter the story elements.
This story borrows liberally from the past adventure with players waking up to find themselves cashed on a mysterious island after lightning strikes brings down their airship. As an ambitious scout of the game world players quickly move into exploration mode where you'll encounter deeper plots while making friends and enemies. After the core story you'll also find a wealth of challenges and side activities to extend the gameplay further for your team of monsters.
Regardless of the DS version you opt for you'll find your Dragon Quest Monsters adventure to be a familiar affair of monster capture, world exploration and story plots. The most evident improvement though is in the monster department with a list of over 300 monsters in the base version which also includes nearly all of the previous monsters from the franchise.
Interestingly Dragon Quest Monsters: Joker introduces new classes of monsters with large and gargantuan which take up larger amounts of space on your bench which alters the party dynamic.
Taming monsters is by no means solely focused on completing your collection though with combat forming the second key gameplay element of your Dragon Quest Monsters: Joker adventure. Combat is entirely turn based with players having the option to alter AI settings to speed up the battle process if players don't wish to issue all orders manually.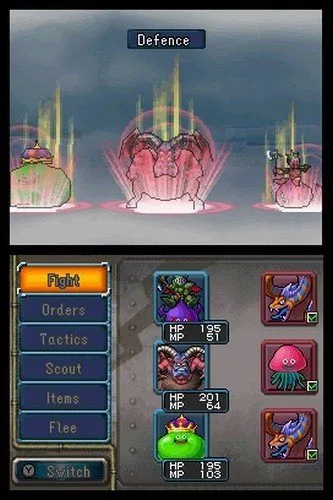 It's a nice inclusion that doesn't detract excessively from the broader strategy of developing a team and can take some tediousness out of the gameplay loop that might see you spamming the same move over and over for victory when moving through a highly populated area. Online and local battles are still available supporting up to 8 players and even include leaderboards for you to keep track of who is the best tamer out of your friends.
Summary:
Huge number of monsters to scout with over 300 in the base game (400 with Professional version).
Support for battles online or locally with friends to test your tamer abilities.
Interesting storyline with a variety of environments to explore and characters to meet.
Design your perfect monster party and balance the use of large and gargantuan monsters that take up significant space.
Use the available AI settings to speed up the battle process and remove some tedious elements of the turn based combat if desired.
Links:
Videos:
Review Platform: DS