Attempting to capture the D&D 3.5 rule set and import it into the MMO environment Dungeons and Dragons Online (DDO) launched back in 2006 as a paid title. Eventually going free to play since 2009 the game has continued to maintain an audience of dedicated players, predominately made up of fans who enjoy the original D&D mechanics.
While free to play there are a number of restrictions on free to play players both in terms of races and classes which will eventually push the dedicated the player towards the VIP offerings. The most glaring of the restrictions though is limited quest and game challenges with free players having access to around 20% of the total game content which generally features watered down rewards and story. This is further hindered by a maximum level of 20 for free to play players. To offset this and reward dedicated players a DDO Points system earned through gameplay can be used to unlock content that interests the player.
With the Dungeons and Dragons namesake Dungeons and Dragons Online thrives in two key areas; world building and character creation. On the world building front you'll have the beautiful city of Stormreach on the continent of Xen'drik (Eberron campaign) which lies mostly unexplored and thus full of adventure for the keen explorer. While unexplored the area around of Stormreach is not a barren wasteland as it was once home to a powerful civilisation that has since disappeared to history.
This world building also extends to the impressive quests system which throw aside the typical kill 10 zombies. Instead Dungeons and Dragons Online has every quest taking place in a unique dungeon that has its own objective and design, almost creating a sense of mini D&D dungeons every time you take a NPC quest. This is further enhanced with 3 difficultly levels of each quest which increase mob sizes for additional challenge and an associated uplift of rewards.
Meanwhile on the character creation front players have a wealth of visual options (especially when factoring in the age of the game). The true depth though starts when you select one of the 8 game races or 13 classes and matching it with traits and character abilities. Each of these are going to be familiar to D&D fans with familiar faces of barbarians, clerics, bards, druids, rogues, balances and warlocks gracing the lands of Dungeons and Dragons Online with the ability to dual class if desired.
In true D&D fashion there is nothing stopping players from crippling themselves with incorrect or poor choices which can leave your character ineffective at best requiring re-roll for further enhancement. Within these there is quite a focus on social and team skills rather than direct combat abilities which add an extra layer of depth outside of combat. It's clear that the vast amount of focus in Dungeons and Dragons Online was on capturing that character creation element and bringing it to the MMO arena.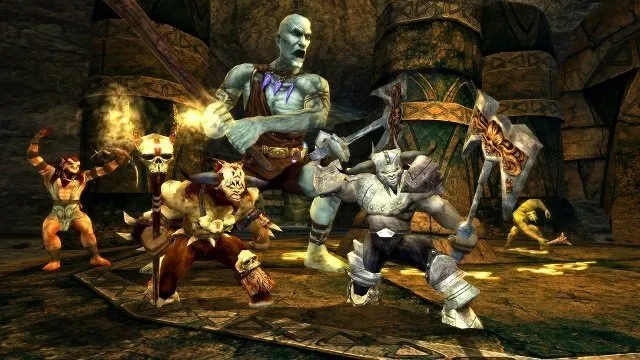 Unfortunately this comes at the cost of combat which has only been become more evident with time as it falls behind other more modern games. While combat serves its intended purpose and even encourages party play this won't be the primary reason you continue to adventure in Dungeons and Dragons Online. It does get a few points back for its action combat focus however of which it was leader at original launch.
Ultimately it's hard to go wrong with trying out Dungeon and Dragons Online if you are a fan of the D&D franchise with its free price tag and the game offering the world building and class creation that D&D is known for in an online space.
Summary:
Based on Dungeons and Dragons (specifically 3.5 rule set) which ensures impressive word creation and deep character customisation.
Free to play base with a reasonable amount of content with potential to unlock more with play or pay.
Range of class and race options available that continue to steadily increase over time.
Quest based levelling paired with unique dungeons (DM voice included) that offer three tiers of difficulty.
Fantastic unexplored Eberron campaign to explore and discover the secrets of the region.
Links:
Videos:
Review Platform: PC