Elsword Online offers a skill based free to play action packed MMORPG experience with 2.5D side scrolling mechanics at the core of the experience and comic book undertones. Like many MMOs Elsword first launched in Korea in 2007 and eventually landing to North American shores in 2011.
Gameplay in Elsword centres around beat 'em up style mechanic within a MMO framework that emphasises co-operative play. With this beat 'em focus you are guaranteed a fast paced adventure as you move across the screen beating down on enemies and the range of bosses. Elsword doesn't shy away from PvP entirely though with a focus on skill based competitive modes for up to 8 players. You'll also find other modern MMORPG social features supporting both PvE and PvP with guilds and chat mechanics allowing you to connect with other players.
The world and story of Elsword that contains this MMO experience is the land of Elrios which draws power from the El Stone. One day the El Stone mysteriously disappears and a group of adventurers goes in search of the magical stone to return its power of protection to Elrios. While it's a standard MMO story setup it does provide enough backstory for your Elsword Online adventure and means you won't be constantly bogged down with story elements or stuck reading long passages of dialogue for those that prefer to focus on the action instead.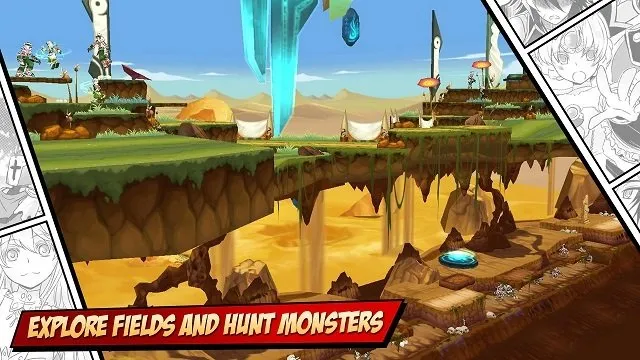 Players will follow the story across multiple regions that each have their own central town with connecting dungeons where monsters hide. These central hubs are where you'll learn more about the region, talk to NPCs, gather quests and trade with merchants in traditional MMO fashion. As you adventure through all the regions you will slowly increase the strength of your customisation character and have the opportunity to learn more about the basic lore of the game world.
Elsword is not shy about offering a health character roster with a total of 13 classes who each have multiple layers of later job advancements to create some speciality. This ensures all playstyles have an appropriate character from Elsword the warrior to Aisha the mage and beyond all of the characters have unique art styles, skills and combos. These combos range from simple to advanced requiring a mixture of X and Z button presses in combination with directional arrows. Given each of these creates a vastly different Elsword experience dedicated players often roll with multiple characters and enhances the longevity of your MMO journey as well.
Ultimately Elsword Online plays much like the original Grand Chase and other games from the 2D side scrolling genre although it's beat 'em style and theme does allow it to stand out. This skill based combo combat is a nice change of pace from other options in the MMO market as well.
Summary:
Action and skill based combat with beat 'em up elements with a MMO framework
Wealth of unique characters (13 in total) that each have their own skills, combos and design that is further refined through multiple job advancement options.
Long running title that still has a stable game population and receives regular event content.
Well-designed co-op and PvP adventures ensures all player tastes are catered for.
Stylish comic like graphics that bring both characters and the game world to life with style..
Links:
Videos:
Review Platform: PC